Effective Post Cards To Pull In New Customers
Post Cards are effective ways to communicate your marketing message with your prospective clients. See the article below about the 3 tips to super-charge your post card mailings.
Here in Print Town, we produce highly effective post cards on sturdy, thick 360gsm Card. You can  We GUARANTEE you will be completely satisfied with your post cards. If not, we'll re-print it or give you all your money back!
You'll have your post cards professionally designed by our award-winning designers and printed in ultra-vibrant full colour on premium 360gsm thick card. We also recommend you add an extra protective, luxurious laminate to your post cards to protect them. You can choose between our 'smooth velvet' matt laminate or out 'ultra shine' gloss laminate.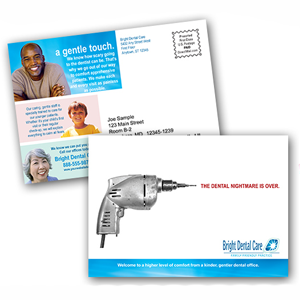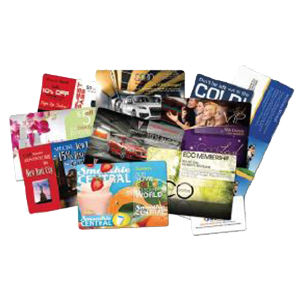 3 Tips To Supercharge Your Postcard Mailing Results
Direct Mail is, was and forever will be a very attractive way to get customers. Some swear it is the best. However, getting the results that would make you agree with the believers is harder than you think. In direct mail, vast empires rise on the back of tiny response rates. Fractions of 1% can make or break mailings, copywriters and companies.
The companies operating that way tend to be very shrewd. They know their numbers and they know how to milk their lists for all they are worth. They know how to retain clients. They are very switched on. They aren't perfect, and they know that there are always opportunities for improvements.
For the rest of us, there are plenty of opportunities to get much better results from our postcard mailings.
Direct Mail Tip #1: Pay Attention To Others!
You should be on multiple direct mail lists and you should be buying from them periodically. There are plenty of good ideas you can swipe and deploy. Always, and I mean always pay close attention to what your competitors are doing. Don't limit yourself to just traditional post card mailings… You can boil longer copy promotions down to be effective on post cards too.
All direct mail coming from competent marketers is your friend. They are spending hard money on the paper and postage in order to get a response. That should tell you something about the quality of the copywriters they employ.
Direct Mail Tip #2: Use Multiple Offers
Most marketing is limited to 'buy now offers.' According to the sadly departed Chet Holmes "only 1 – 3% of a given market is in a buy now mind set". By using buy now type offers you automatically alienate 97% of your market.
This is why a lead generating offer inviting the prospect to request information should be included with every buy now offer. It means rather than blanket mailing every time you need a few sales, you are consistently building up a lead bank that can be systematically followed up. Over time, some of these will move into the 1-3% 'buy now' category, so you will be able to turn into customers later on.
Your return will be better, when you invest in these higher value leads than you'll ever get blanket mailing your entire prospect universe with traditional post cards.
Direct Mail Tip #3: Use The Best Copy You Can
When space is tight you need every square centimetre to sell more for you. Short copy is the hardest copy to write and have it be effective, yet many agencies give this work to thier junior copywriters. They shouldn't and you shouldn't either!
If you are going to spend serious dollars on mailing your postcards, make a serious investment in improving the performance by getting it written by a professional direct response copy writer.
Need Your Post Cards Professionally Designed?
We have professional graphic design services available to make your printing stand out, get attention and compel your prospects to do business with you.
We guarantee that you will be thrilled with all graphic design work we do for you. If at any stage during the design process you are unhappy with the quality of the design or the design process, simply let us know and we will promptly stop work and give you your money back. - even if we've made it to the final Proof already!

85% of our existing clients return for additional design and print work because we ensure they are completely satisfied! We'd love to add you to our long list of satisfied customers.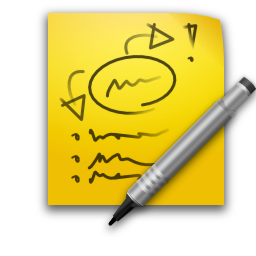 Post Card Printing Specs
Card Size:
DL Card – 210mm x 99mm
Post Card – 100mm x 150mm
Custom sizes also available
Card Stock:

Thick360gsm Premium Artboard
Colour:

Ultra-Vibrant Full Colour on the Front & Back
Laminating Options:
Unlaminated
Velvet Smooth Matt Laminate (Front only or Front & Back)
Ultra Shine Gloss Laminate (Front only or Front & Back)
Turn-Around:

Optional Extras:
Jump Off The Page with SCODIX – Spot Gloss
Be different with Non-Standard Sizes
Stand out with Tent Business Cards
Get noticed with Fold Out Business Cards
360gsm Not Enough? – We can do Extra Thick Cards too
Other Finishing extras – Just Ask!
If you would like a quote on design and/or printing, please call us on
1300 120 106
or fill in the 'Quick Quote Form'. Let us know what products you'd like quotes on and what quantities you require. We will respond within 1 business day.
We can give you quotes on design, printing and even the copywriting of:
Business Cards
Tent Cards
Fold-Out Cards
Letterheads
Envelopes
Signage
Notepads
Flyers & Brochures
Post Cards
Labels & Stickers
Posters
Fridge Magnets
Presentation Folders
With Compliment Slips
Carbonless Books (NCR)
Car Magnets
Banners
Newsletters & Catalogues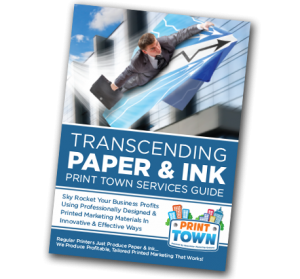 FREE 32 Page Catalogue Transcending Paper & Ink
Our FREE 32 page catalogue called 'Transcending Paper and Ink' shows you innovative and effective ways to use printed marketing in your business. To get a free copy sent to you, all you need to do is fill in your name and email address in the form to the right and click the button that says "Send Me The Catalogue".