Don't Even THINK About Designing Or Ordering Your Next Business Card Until You Watch This Video
Discover How To Avoid All The Common Business Card Marketing Mistakes Everyone Makes and How To Turn Your Business Card Into A Sales Producing Machine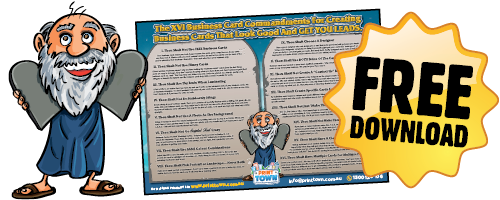 Get The XVI Commandments For Creating Business Cards That Look Good And Get You Leads.
You'll Discover Why:
Thou shalt not leave the back side of the card blank.
There is one piece of information that should be on every business card but rarely is.
There are 5 different types of business cards... Which ones do you need in your business?
Thou shalt not 'just make the logo bigger'
And 12 more Business Card Commandments!
Simply enter your First Name and email address in the boxes below, then click the "Send me the 16 commandments." button. I will email it straight over to you, so that you don't make these mistakes on your next set business cards (regardless of who designs or prints them!)