Meet The Mayor Of Print Town
Hi I'm Zac.
Welcome to Print Town.
I founded Print Town as an alternative to the other commercial printing companies out there. You get the discount conglomerate where you can't get a customer service person on the phone for hours of trying. You either upload your artwork or are faced with paint by numbers graphic design. So there is no way your business can stand out.
On the other end you've got these local Print Shops who should really do customer service but just don't. You have to call and chase and call and chase for anything to get done.
If you'd like prompt service with a smile then this is the place to be.
Finally unlike every other printing company we are all about producing results for our customers and clients. We want you to get results, not buy sheets of paper that never get used and then get thrown out.
When I am not running the mayor's office, I'm keen on going and seeing live music. I am also an avid gamer (in the offline sense of the word – I spend enough time in front of a screen as it is) – I'll routinely catch up for a board game or a card game with friends.
I love to cook – nothing better than spending 6-8 hours cooking America style BBQ on a lazy Sunday afternoon, otherwise I am on a mission to find ways to enjoy eating vegetables and vegetarian food. All those bad 'boiled mushy veg memories' from childhood need to be banished.
For a bit of exercise I am attempting to get my 6'6" 155kg frame in to shape to be able to run a marathon barefoot. That project could be going a bit better.
In and around all that I'm on the lookout for the perfect woman… Who knows, I may actually find her.
If you would like a quote on design and/or printing, please call us on
1300 120 106
or fill in the 'Quick Quote Form'. Let us know what products you'd like quotes on and what quantities you require. We will respond within 1 business day. We can give you quotes on design, printing and even the copywriting of: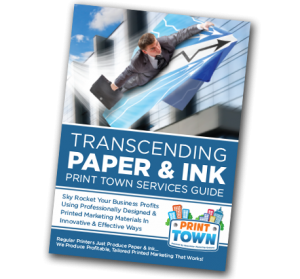 FREE 32 Page Catalogue Transcending Paper & Ink
Our FREE 32 page catalogue called 'Transcending Paper and Ink' shows you innovative and effective ways to use printed marketing in your business. To get a free copy sent to you, all you need to do is fill in your name and email address in the form to the right and click the button that says "Send Me The Catalogue".